Phirima Game Ranch is the result of the union of two farms which were acquired during 2001 and 2002. Everything on Phirima was built from the ground up with much love and sweat. The total size of the farm is 16 500 ha, the sides measuring about 19 km x 10 km. Phirima is a registered game farm with the Botswana Department of Wildlife. This implies that we can hunt all year around, and are not bound to the hunting season. We are also a member of the Botswana Wildlife Producers Association (BWPA). We have purchased our game from various different suppliers and sources in South Africa, Namibia and Botswana. This allowed us to introduce a wide spread of genes, improving our game populations. This is visible in the quality and slaughtering weight of the animals that are hunted at Phirima. Our main activity on the farm is hunting, but we also promote the game viewing, especially during the off hunting season. Apart from our bountiful game populations, we also have an abundance of birdlife. January and February, especially, is known for the increased number of raptors in the area. The spectacular view of the stars in the evenings is another of our attractions.
Our game numbers after the 2014 areal game count are as follows:

Zebra
105
Ostrich
73
Impala
188
Gemsbok
556
Duiker
34
Waterbuck
43
Blue Wildebeest
321
Giraffe
21
Steenbuck
107
Springbok
658
Eland
270
Leopard
1
Kudu
245
Red Hartebeest
108
---
About our shareholders
There are only two shareholders in the farm, namely Thomas van Zyl, who started the development in 2001, and Robert Dickerson, who acquired the majority shareholding in the farm during 2005. The farm manager, Henry McCarthy was appointed from February 2017. His wife, Anita will assist him with the administrative work. The farm has four full-time guides and a cleaning lady. During hunting seasons additional hands are employed to assist with the guide and slaughtering tasks.
---
Directions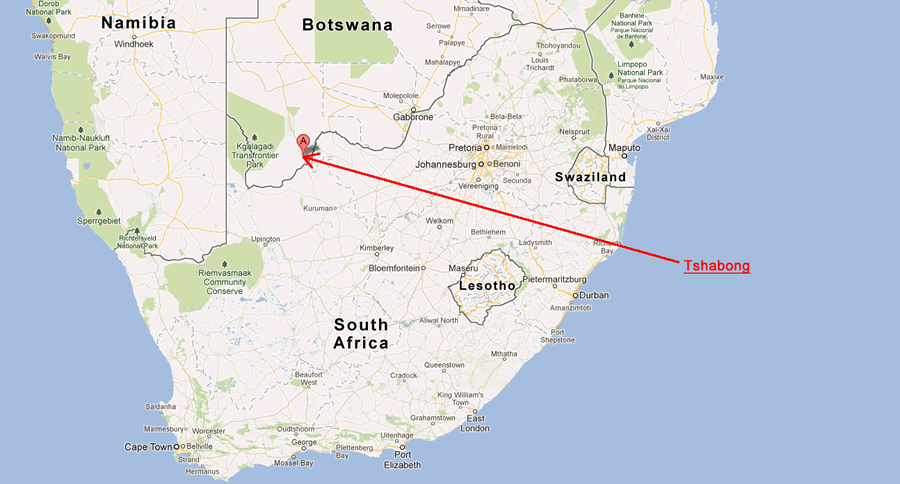 From Gaborone: Gaborone (the capitol city of Botswana) is about 500 km from Tsabong. You take the road to Kanye . You then travel on the Trans Kgalagadi Highway through Jwaneng and you take the Tsabong turn off at Sekoma. You then travel through various small villages including Khakea, Werda,Makopong and Khisa for about 280km. You continue through Tsabong on-route to Middelpits. You will find the Phirima Game Ranch turn off 30 km from Tsabong. The last stretch is a 12km sand road to the Phirima Game Ranch gate.
From Kuruman: in the Nothern Cape Province of South Africa, you travel in a northerly direction past Hotazel. There are two options that can be followed. They are exactly the same distance. You can carry on straight passed Blackrock. The tarred road ends at Blackrock. From there it is about 110km of gravel road to the Mc Carthys Rest border post. From the border post it is 26 km of tarred road to Tsabong, where you can fill up with petrol, buy ice ect. At the four way stop in Tsabong you take the Middelpits road. You will find the Phirima Game Ranch turn-off 30 km from Tsabong. The second option is to turn left between Hotazel and Blackrock at the Van Zyls Rest turn off. This route only has about 45 km of gravel road. From Van Zyls Rest, you will proceed to Middelpits border post. You will turn towards Tsabong on the tarred road. You will find the Phirima Game Ranch turn off about 70 km from Middelpits. The last stretch is a 12 km sand road to the Phirima Game Ranch gate.
From Upington: You follow the R360 to the Kgalagadi Trans Frontier Park. You pass Askham and in the village Andriesvale, you take the Gemsbok Bordepost road. From the Borderpost it is about 160km to the village Middelpits. You will find the Phirima Game Ranch turn off 70 km from Middelpits. This whole route is tarrred. The last stretch is a 12km sand road to the Phirima Game Ranch gate.
---
Butchery & Cold Room
For hunters who want to process their meat on the farm, our well-equipped butchery is available free of charge. Amongst other things, the butchery is equipped with a band saw, mincer, vacuum machine and sausage filler. We also have two 6m cold rooms available for our hunter's convenience. This enables us to keep halaal and non-halaal meat separately.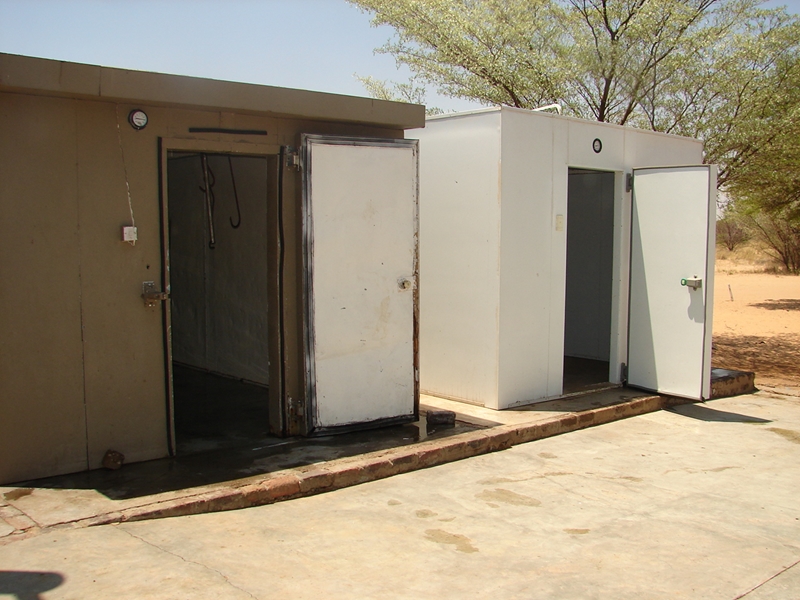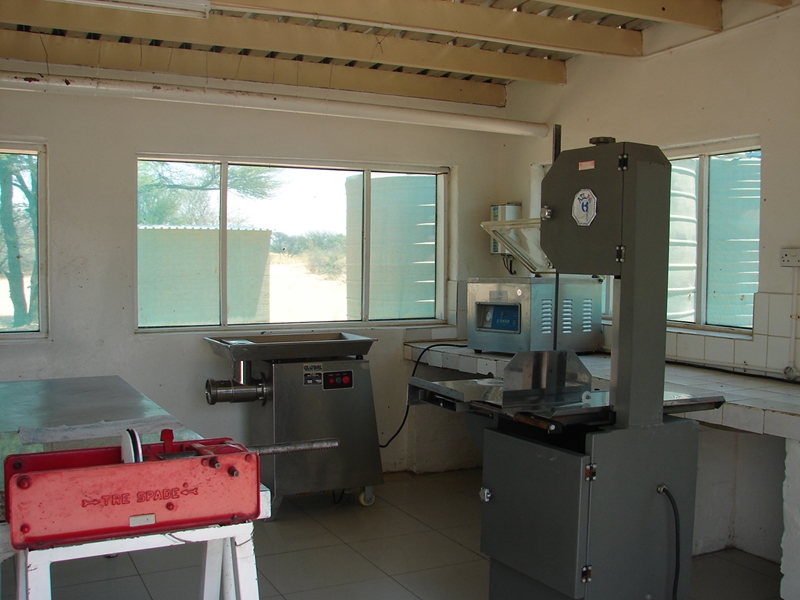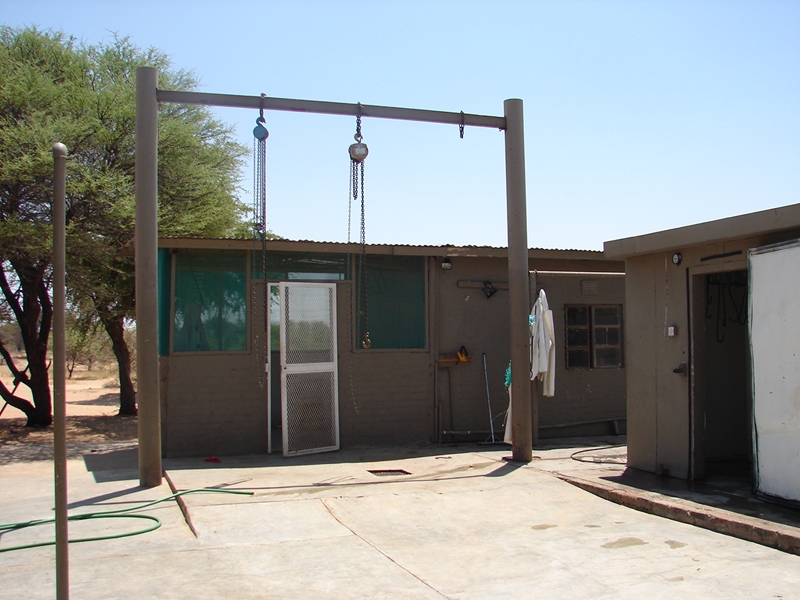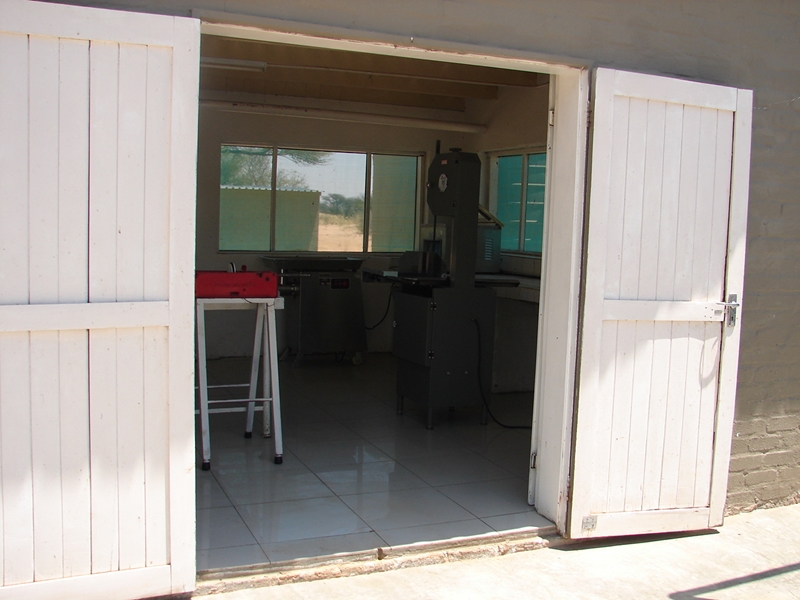 ---
Shooting Range
To ensure a successful and enjoyable hunt, a very well-equipped 150 m shooting range is available for target shooting and rifle sighting.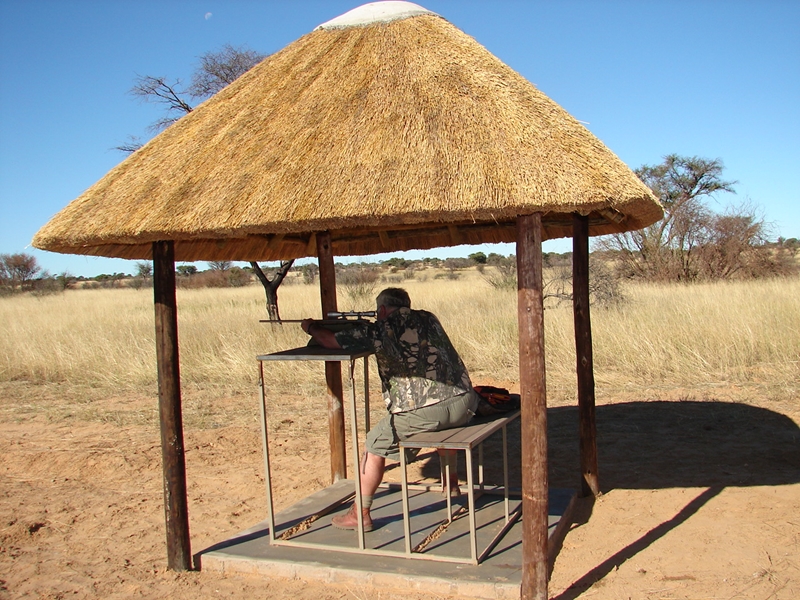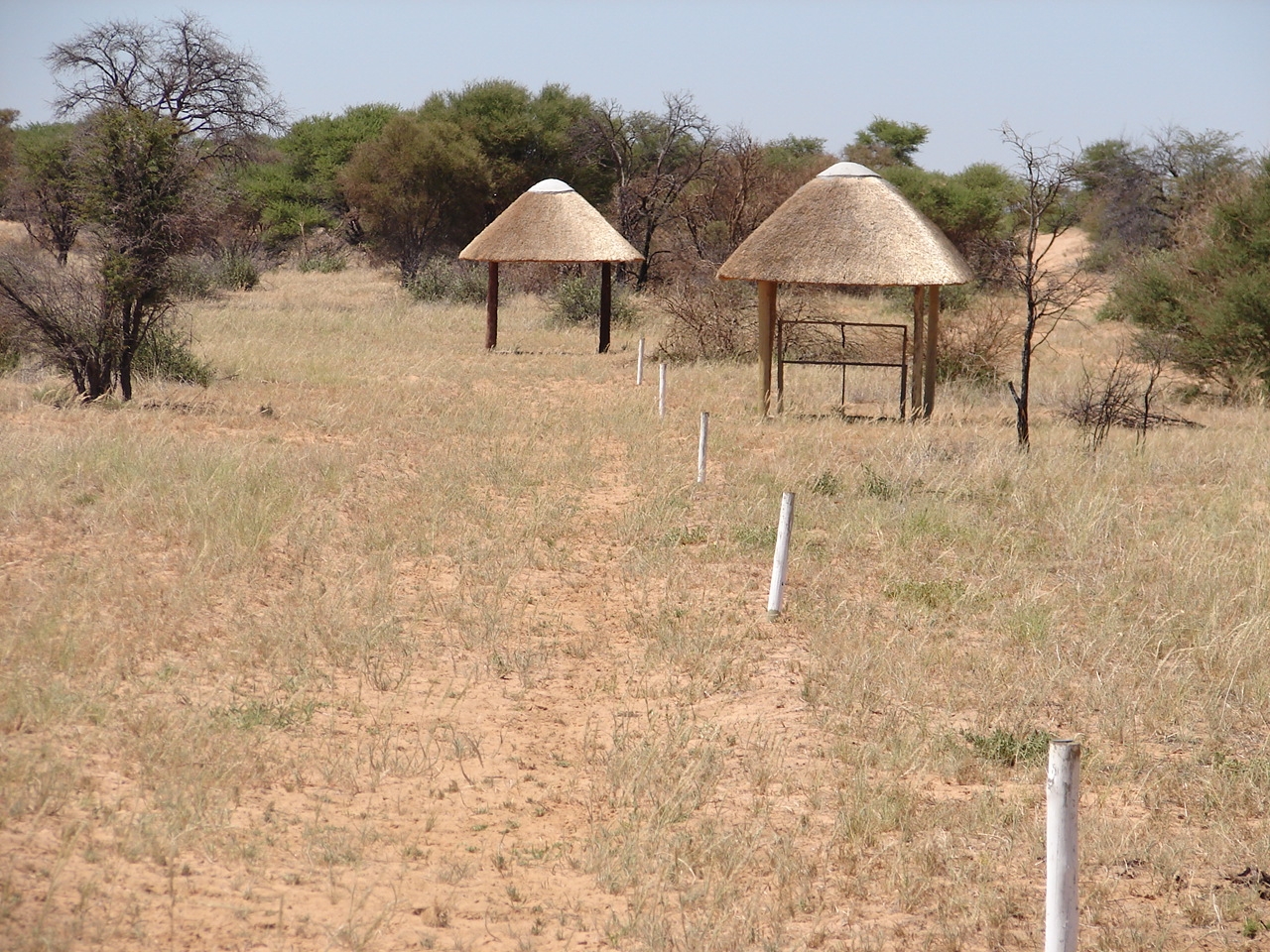 ---
Vehicles
The farm have two fully equipped hunting vehicles (Toyota Land Cruisers) that can be used for hunting. We also allow hunters to use their own vehicles, if they prefer to do so. We also have a 12 seat game viewing vehicle (Land Rover) available for game drives. Game viewing is undertaken by one of our well-trained personnel, to ensure the enjoyment of game viewers. Our vehicles are available to our guests for a nominal fee.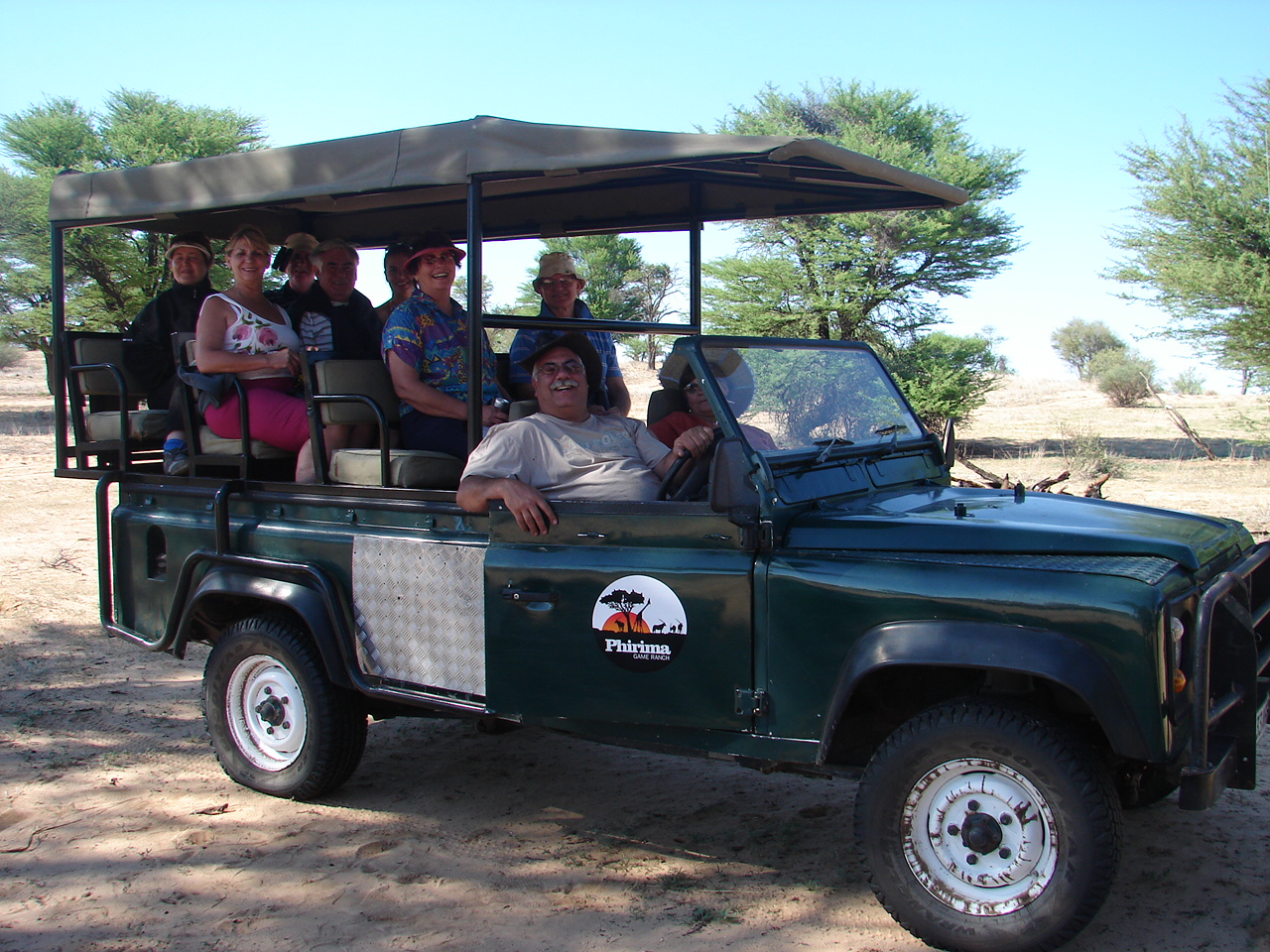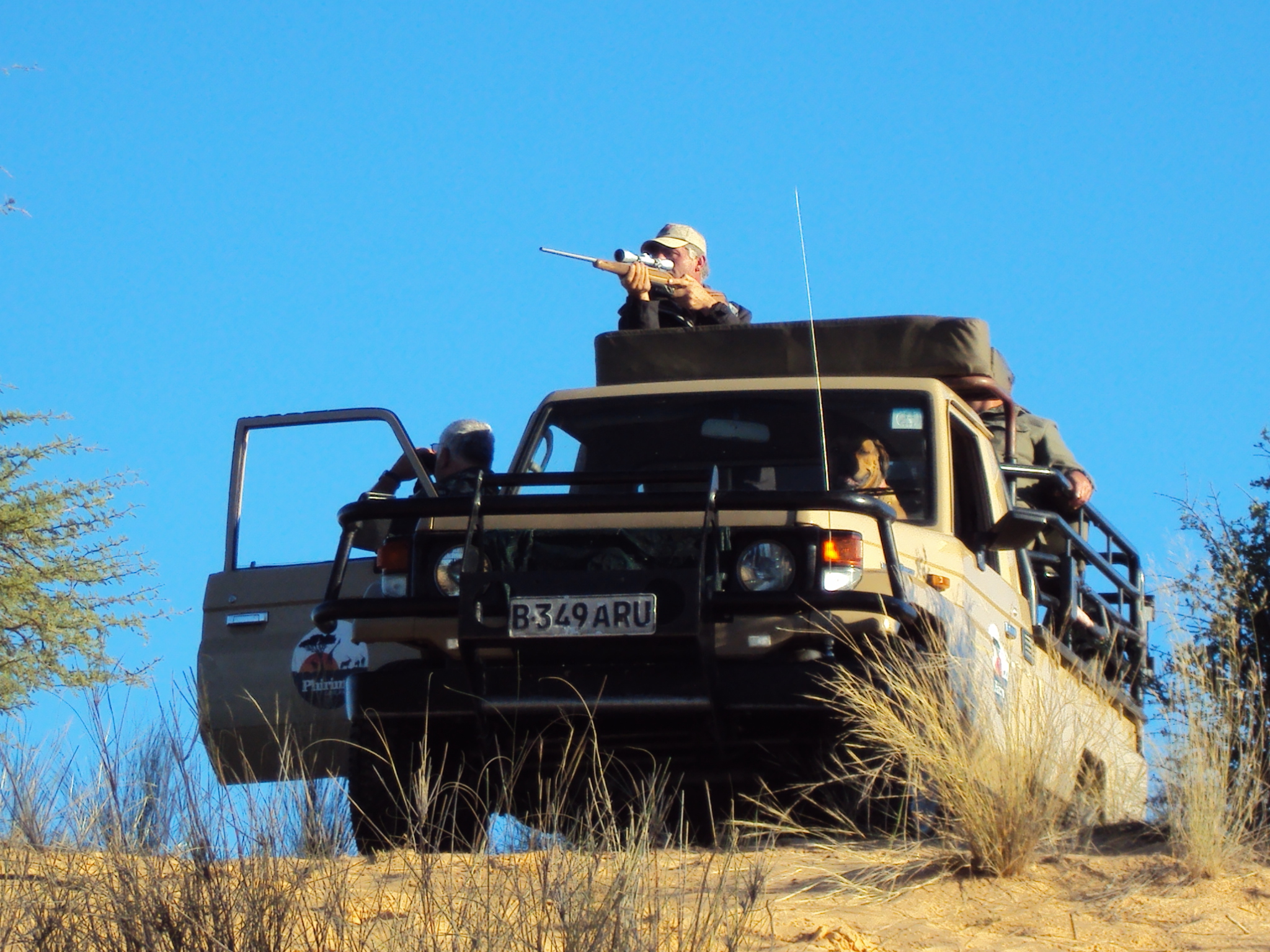 ---
Phirima branded hunting clothes available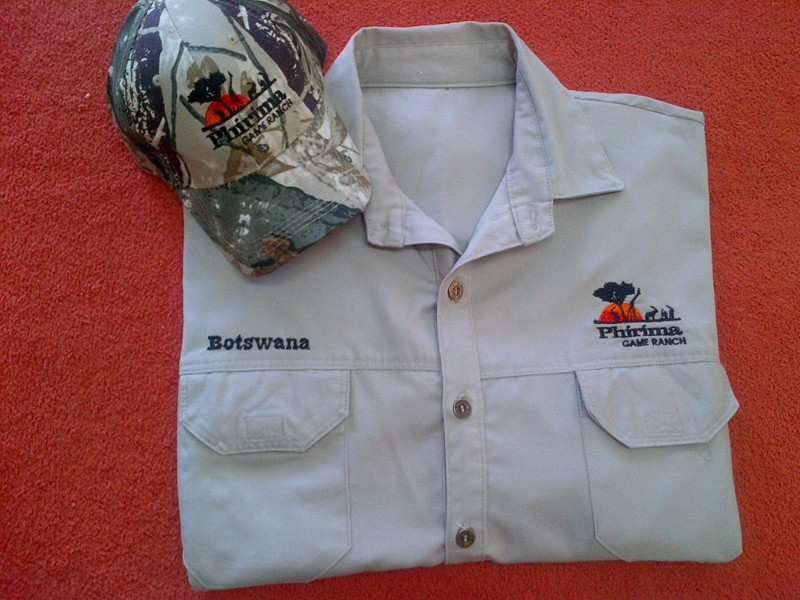 ---
Phirima Road Map